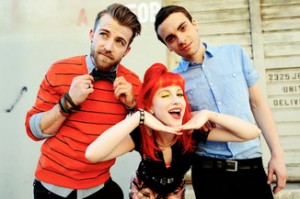 Bands, like all relationships, go through cycles and Paramore is no different. I have never been a big fan of the rock band but their lead singer has always wowed me with her vocals. If you aren't too familiar with Paramore then you were somewhat out of the loop during the emo/screamo/indie rock boom of the early 2000s. This group stood out from the crowd because Hayley Williams wasn't some meek female lead singer. Her stage antics matched and even surpassed the guys in her genre. Some even were shocked that a sixteen year old would have the guts to play music with the guys.
Paramore's sound has definitely developed over the years and I believe Hayley has grown to embrace her role as a performer, defying stereotyped ideas of female singers. The new album is especially significant since it marks the band's return without founding members Josh and Zac Farro. The departure of band mates can be tough as the remaining band members are forced to reevaluate the band. Should it go on, end, or be reborn as something completely different?
It seems like this new incarnation of Paramore has chosen to stay true to its roots while striking off in more daring directions. This is not surprising though considering the band has been known for taking risks in the past. Josh Farro had been one of the main sources for Paramore's material so the song writing has been shaken up in a good way. The new album includes an amazing 17 tracks of new material that references everything from the band's split to old songs that fans will recognize. Hayley Williams continues to take the lead with her complex vocals that can uplift and enrage depending on her mood at the time. Personally, I love the range she has and it is refreshing to hear rock songs that do give equal weight to the vocals and instruments.
The band is on tour for the summer so it will be interesting to see how fans react to the new material. Already sold out crowds have been wowed by Paramore's new set. Glad to see a band from my adolescence is still alive and kicking and stronger after a split.