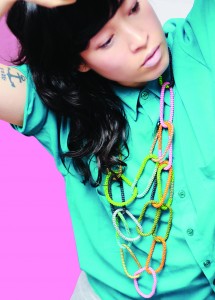 I was introduced to Little Dragon last winter and was instantly warmed by the soulful vocals of lead singer Yukimi Nagano. Could this music be classified as indie soul? Or perhaps electro-r&b? For those who don't know about Ms. Nagano, she's a Swedish born singer who helped form the band Little Dragon in 1996. Her sweet vocals landed her collaborations with top artists like the Gorillaz, SBTRKT, Swedish nu jazz duo Koop, and Raphael Saadiq.
But how did the name Little Dragon come about?
The band name was inspired by the temper tantrums Nagano would throw in the studio during the band's early years. Her passion for the music created memorable moments while recording but that hasn't stopped her or her bandmates from creating memorable songs.
Since their debut in 1996, the Swedish band Little Dragon has released three studio albums entitled Little Dragon (2007), Machine Dreams (2009), and Ritual Union (2011). Their continuous use of electronic sounds mixed with live instruments keeps their music fresh and different from the crowd.
Fans of Little Dragon come from all walks of life and their music bridges the gap between the new school and school sound.
"But you need to listen to it if only because rarely do young bands step forward so quickly with something this majestic and memorable and modern. Little Dragon's evolution will be fun to listen to. Maybe even more than Prince's next three albums." - ESQUIRE
I've already added the "Feather" Fromwood remix and "Ritual Union" to my winter playlists. Both of these songs warm the soul while allowing my mind to chill out. These are the sounds that are perfect for a cold winter night.
"…Richly textured and highly vibe-y electronic music that could soundtrack both the dance party ("Night Light," "Little Man") and the chill-out room ("Crystalfilm," "When I Go Out"). - RollingStone.com
The introduction of Little Dragon into the US has been a breath of fresh air for the music scene that has become cluttered with solo acts churning out one pop hit after another. The sounds of Little Dragon are solid and authentic; Nagano's vocals are rich because they are not because of effects. I'm hoping they will be able to tour once the weather warms up. 2013 is looking to be another exciting year of music.
"Little Dragon makes pop music for folks who think they hate pop music" - NPR
Thanks NPR for this little gem of a statement.
———
-doe