Can't believe no one told me about this guitar wielding super human before now. St. Vincent is amazing! It started with a typical day of perusing the Spotify charts, cleaning up a playlist or two since mine typically get worn out in a week or so, when something strange caught my eye: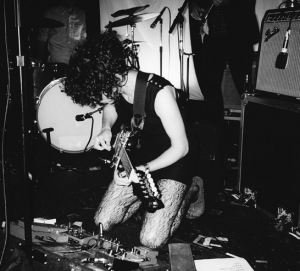 The Twilight soundtrack.
At first, I'd normally pass on music from any teenybopper movie soundtrack but I remembered my favorite artist, Thom Yorke had contributed to a previous Twilight film. Okay, I'll give it a shot. St. Vincent's "The Antidote" caught my eye.
I pressed play.
And wow, the crunchy guitar riff paired with Ms. Annie's silky smooth vocals caught me off guard. I wasn't expecting much but this was great. Of course, I had to venture into more of this woman's discography, one song just wasn't enough. And so it began, my slow foray in the music of St. Vincent.
But what makes St.Vincent so special?
For one, she's an older female artist and she blew up a little "late" in the game. At the age of 30, St. Vincent isn't letting anyone tell her how to play. She's made a name for herself, soaring through her audiences like a superwoman, riding the waves as a crowd surfing show stopper.
It would be easy to mistake Annie for just another cute indie female artist. She's got the looks, cute curls and all. Her voice recalls distant images of 60s nostalgia but when the time comes, strength flows from both her voice and guitar.
———
-doe