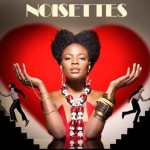 Did you hear? A new Noisettes album is out NOW! This is great news and an even better reason to celebrate. Female fronted bands make me swoon but dynamic duos take the cake. No one rocks the stage the way the Noisettes, An Horse, and Robots in Disguise can.
When asked about the Noisettes Shingai added,"We're two divas with different record collections who constantly introduce each other to new sounds, whether it's African music, jazz, our own modern hybrid of soul music or new adventures in dance music, there always remains the spirit of rock 'n' roll without the clichés. For us, making music means keeping our ears open."
Who are the Noisettes?
The Noisettes make music that you can dance to, sing to, work to, and live to. I actually cleaned my kitchen today while listening to songs off their new album Contact. Bassist Shingai and guitarist Dan make a dynamic duo, playing off each other with ease on and off the stage.
Who are An Horse?
Switching gears, I lucked into an An Horse show a couple years back when a friend from out of town visited and needed to stay busy. The show seemed interesting enough, a cute lady guitarist and drummer boy seemed like an interesting change of pace. This Brisbane couple brought a world of sound and have been on fire since their introduction to America.
I was lucky enough to see them as the main act but they've also had the pleasure of opening for big names like Tegan and Sara and indie rock band Death Cab for Cutie. The 2009 album Rearrange Beds is a favorite of mine.
Who are Robots in Disguise?
Last but not least, Britain's Robots in Disguise or RiD. These two rock queens, Sue Denim and Dee Plume, have kept me on my toes since the early 2000s. Their riotous lyrics and sometimes taboo songs (sometimes featuring robots) are not for the faint of heart but I adore them. What makes this group so unique is their lack of reliance on traditional instruments, instead choosing to go with electric vibes.
If their faces look familiar it is probably because the pair appeared several times on the hit British television show, The Mighty Boosh. Despite crossing over into television, Robots in Disguise have based themselves firmly in the world of rock and roll.
I can't help but love these power couples in the rock music world and will keep looking out for more duos that take the cake.
———
-doe