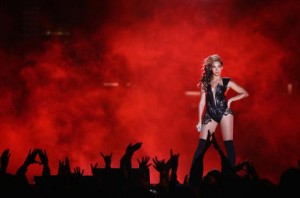 This year's Super Bowl was owned by the Queen B, Beyonce. Fans of this super woman already know that Beyonce is the star of her own show on and off the stage, so it came as no surprise to me when she took the stage and brought the house down. Her stunning Super Bowl performance was followed up by a Grammy win at the 55th Annual Grammy awards for her hit song Love on Top. Mrs. Carter is not letting motherhood, marriage, or expectations stop her from running the world, literally.
Like many, I first fell in love with Beyonce during her years in Destiny's Child. With the help of  Michelle Williams and Kelly Rowland, Destiny's Child reigned supreme in the 90′s. Their songs Survivor, Say My Name, and Bootylicious became my childhood summer jams. So when the trip reunited at this year's Super Bowl half-time show, it was hard to contain my glee. I can only assume the combined glee of millions of Beyonce and Destiny's Child fans are what ultimately cause the infamous Super Bowl power outage.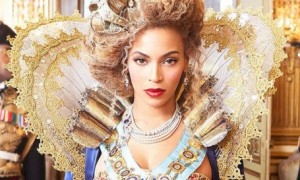 Regardless of her incarnation, I think I will forever be a fan of Beyonce. She keeps reinvigorating the world of pop and R&B music, challenging haters to keep on hating and fans to keep on singing to the beat of her song. But Beyonce isn't the only one changing the music world.
Beyonce's band, "The Sugar Mamas", lit up the Super Bowl stage literally when leading guitarist and musical director BiBi McGill's guitar exploded in pyrotechnics. The Sugar Mama's are no one hit wonder though. This all female band has kept up pace with Queen B all the way.
So when will fans of Beyonce get a chance to see more of this wonder woman? She has already taken home more Grammy gold this year, rocked the Super Bowl, and prepared for the upcoming Mrs. Carter Show World tour. With all these events going on it is hard to know when Beyonce will have time to slow down.