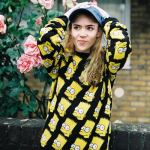 The 17th Annual Webby Awards have been announced and Grimes found herself on the winning the side. The 25 year old musician was one of many, including Lady Gaga and Frank Ocean, to win a Webby this year. The win shouldn't be surprising to fans who have fought to see Grimes recognized for her talent rather than her gender. For women in the music industry it can be an uphill battle but the battle is even tougher when you're young. Grimes is originally from Canada but has toured all over the world, specially in keyboard and synthesizer mixes for her songs.
Her songs "Oblivion" and "Genesis" caught the attention of fans but her social media presence has caught the attention of many media outlets. While most artists turn over their social media accounts to their PR team, Grimes has been content to run her own. In February she announced she was "quitting" the internet only to revive her Tumblr later on.
After the completion of her world tour she took to her tumblr to voice concerns that many female artists face. Music is a business and being a woman in the music business can mean compromising many values in order to get ahead. This type of standard does not sit well with me since music is a passion of mine and violating someone's passion because you stereotype them as being a submissive female is never acceptable. Grimes seemed equally unsettled by the lack of inequality and stereotypes she faced during her recent tour.
While many in the media have been quick to jump in and bend her words to say she is "quitting" or "giving up music", it seems like she is taking time to just process the experiences of her tour. Maybe this will mean a break but not necessarily the end of her music career. If we're lucky there will be a lot of really great music produced from her experiences. I believe the naiveté of her previous albums is really amazing and I look forward to her growth as an artist.
You can read Grimes' thoughts on her experiences as a woman in the music world here.
What do you think about the problems facing female musicians? Do you feel stereotyped based on gender?